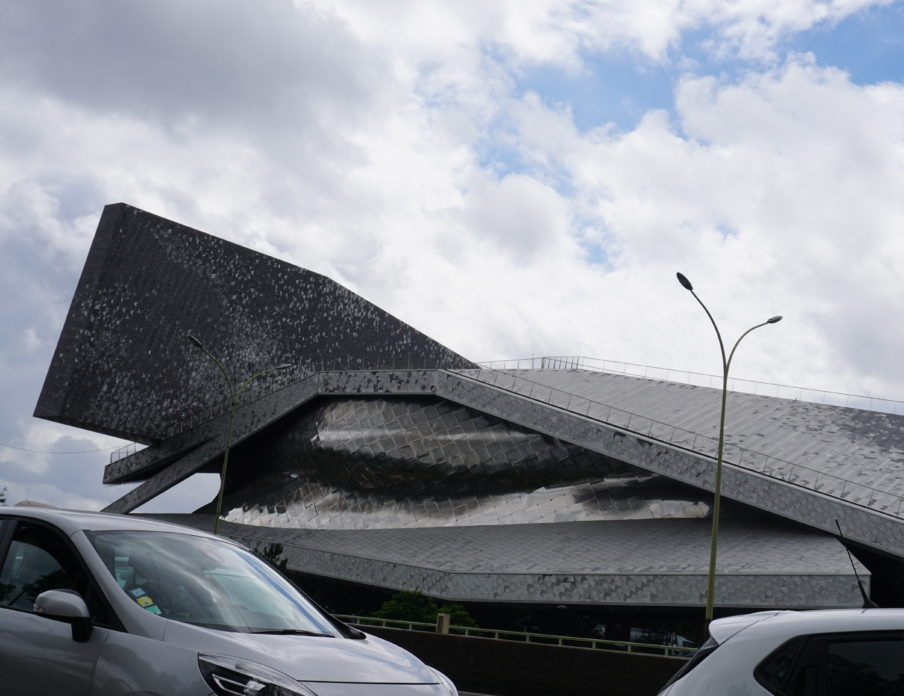 Art/Architecture- Urbanisme/Utopie/Ballade sur le périphérique Parisien.
Art/Architecture-Urbanisme/Utopie/Ballade sur le périphérique Parisien.
Paris et ses banlieues proches sont séparés entre elles par une ceinture routière, le périphérique, qui distribue les accès aux portes d'entrée des villes. C'est un lieu conflictuel dans lequel se concentreront de multiples tensions liées au temps, du fait de ses embouteillages récurrents qui mettent les conducteurs dans des situations difficiles dans leurs plannings, à la santé du fait de la pollution annoncée par des panneaux lumineux ou les interdits attachés au respect du Code de la route.
Cependant le paysage qui entoure cette autoroute dévoilera des points de vue paysagers intéressants car la boucle permettra de voir une succession de panoramas sur Paris, d'horizon lointains qui sont exceptionnels et rares de par leur homogénéité et intègrent déjà, aujourd'hui, quelques architectures de qualité qui symbolisent la vitalité économique du grand Paris. Ce spectacle urbain, cette ballade architecturale, en s'améliorant en continu, au fil des années, par la construction d'architectures neuves et artistiques ou des restaurations de bâtiment introduisant dans leurs aspects de nouveaux looks, couleur et formes, donnera le tempo de la santé économique de notre pays.
La qualité des visuels autour du périphérique Parisien l'élèvera au titre de monument moderne horizontal certes mais monument quand même. En tant qu'urbanisme, il ne sera plus perçu comme une fissure mais comme une promenade architecturale.
Parfois, au milieu des voitures gît le corps d'un héron qui se sera égaré dans ce lieu, pour lui satanique. Je l'ai rencontré aujourd'hui et il ne restait de cet oiseau qu'une aile intacte, aux plumes grises, que les conducteurs éviteront avec ce qui semblerait être du respect pour la nature, ou de la peur.
À flanc de talus, surplombant les flots de voitures, broutent des chèvres, flâne une marte et des hérissons.
Ainsi dans cette ballade architecturale se profileront dans la boucle autour de Paris, le Sacré-Cœur, un symbole de l'histoire de notre pays, les nouveaux bâtiments de l'avenue de France aux formes et couleurs innovantes, ceux du Parc de la Villette, avec le Philharmonie de Paris, porte Pantin, que j'aime bien, car il me semblerait vivant, une sorte d'architecture nature, évoquant un animal mythique et géant, telle le serait une bête à écaille qui aurait avalé un harmonica, et dont la gorge, la nuit, palpiterait, sous la lune, de lumière et de vie.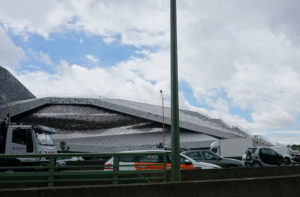 Plus loin, un immeuble de verre propose avec ses pare-soleil un jeu croisé d'ombres et de lumière qui effacera sous une sorte de brume esthétique la rigidité de ses formes.
Plus loin encore se présenteront à nous les bâtiments du parc d'exposition de la porte de Versailles dont les formes, enseignes et couleur, en clignotant, représenteront l'aspect marchand de notre ville, d'autres encore, comme une tour de verre avec un toit en forme de dôme, qui évoquera, en écho chez nous, la puissance économique de Londres, celui du « The Gherkin », surnommé le cornichon par ironie du fait de sa forme qui ressemblerait plutôt, au vu de ses proportions et de sa fonction dans le quartier des affaires de la City of London, à un pain de sucre.
Les rivages du périphérique de Paris, du fait de la haute lisibilité de ses paysages en mode lointain, spécifique à cet espace urbain, se présentent à nous comme des panoramas successifs formant un flux visuel sans rupture, une vitrine devant être constamment renouvelée, complété, car représentant, en temps réel et sans mensonges, la vitalité économique de notre pays.