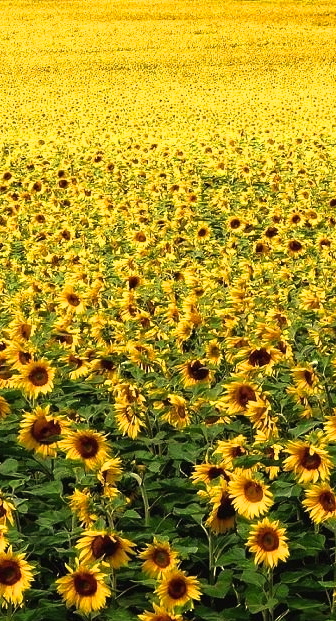 Cinéma/Art- The Circle de James Ponsoldt
Le départ.
– Lola, dépêche-toi, nous devons partir si nous ne voulons pas être en retard au cinéma.
– Deux minutes s'il te plaît, je devrais auparavant me maquiller.
Elle entre dans la salle de bains et déclencha, à partir de son téléphone, l'ouverture de son miroir télévision qui refléta son image. Elle lui proposa une série de photos la représentant dans différents maquillages et tenues vestimentaires afin qu'elle puisse choisir ses vêtements suivant son humeur du jour.
Une tenue rose sera parfaite pour un évènement comme celui d'aujourd'hui dit — elle à Paul qui s'impatientait.
5 minutes plus tard, elle était habillée et prête à partir.
Elle montra à son ami la mini caméra interactive qu'elle avait fixée sur son chemisier. On la surnommait le Tournesol du fait de sa couleur aussi jaune que la fleur de cette plante en relation constante avec les rayons du soleil comme la caméra l'était avec l'environnement sonore et visuel des hommes.
La porte d'entrée de leur appartement s'ouvrit à leur arrivée et la voix synthétique du portier audio leur fit remarquer qu'ils étaient en retard ce qui est totalement interdit par leurs règles communautaires.
La voiture solaire sans chauffeur les attendait devant leur porte, ils montèrent à l'intérieur et s'envolèrent vers leur destination.
La Caméra Mère.
Quelques minutes après ils arrivèrent devant le cinéma, descendirent du véhicule et se placèrent dans une longue file de spectateurs qui avaient été sélectionnés pour assister à cette séance cinématographique par l'Entité Supérieure, la Caméra Mère.
Cette dernière recevait dans son cerveau cybernétique toutes les images provenant des caméras individuelles ainsi que celles fixées sur des sites architecturaux ou espaces publics afin de les analyser en continue et détecter les comportements déviants.
Elle décidait des flux comportementaux auxquels chaque individu appartenant à un groupe devait se plier au cours de sa journée, ses semaines ou ses mois.
Lorsque les fautes se répétaient, les individus responsables étaient exclus de leur communauté et personne ne savait alors ce qu'ils devenaient.
Certains disaient qu'ils vivaient dans les sous-sols de leur ville, dans des communautés de castes inférieures. On disait qu'ils avaient perdu leurs couleurs, perdus leurs avantages vidéo personnels et on les nommait les hommes gris.
Les villes d'aujourd'hui fonctionnent, en 2057, sous l'autorité d'une machine, une entité supérieure, la Caméra Mère, grâce à laquelle tout citoyen sera devenu totalement transparent et ne saurait plus mentir.
Les visages de Lola et Paul s'affichèrent, en clignotant, sur un écran géant afin d'indiquer aux autres qu'ils étaient fautifs car en retard sur leur planning.
Lola et Paul rougirent de honte en promettant de ne plus recommencer.
La Caméra Mère accepta leurs excuses et leur permis de rester à cet endroit dans la file afin de découvrir une nouvelle fois un film culte des années deux mille dix-sept, The CIRCLE qui annonça à cette époque, comme dans une prémonition, les bases de notre société actuelle.