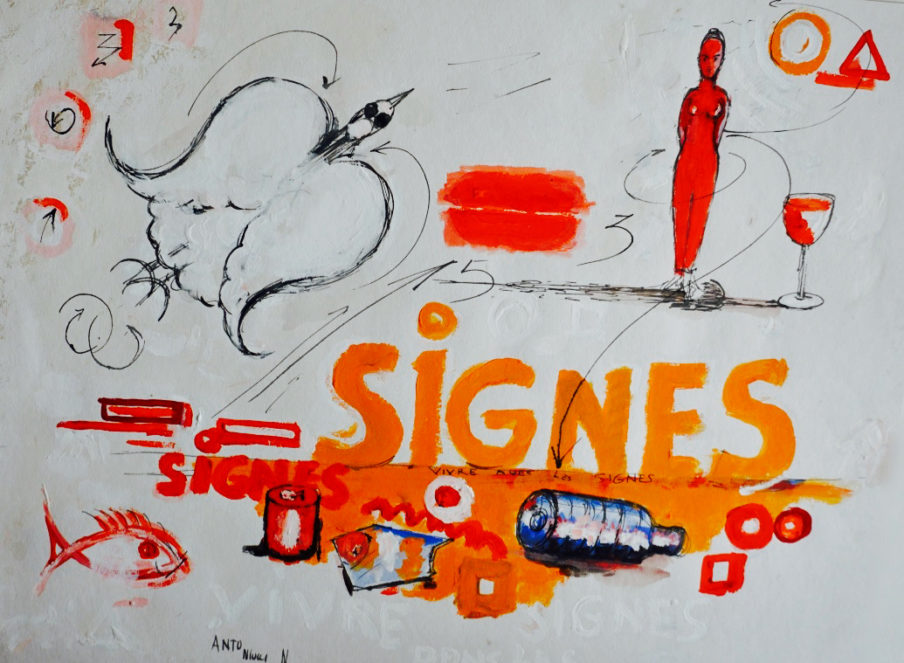 Les mots/Proverbes et citations — Les épées du temps
Image de mise en avant- Dessin de Nicolas Antoniucci sur un mot, le signe… Vivre dans les signes 1.
Saint Augustin, Publius Syrus, Platon et… Napoléon, Berthe Morisot… franchissent le temps.
Les épées du temps — Les épées de mots.
Les messages envoyés sur mon site par des lecteurs résonneront parfois de petites phrases provenant de toutes les époques et de différentes cultures.
Ces mots, proverbes, ou citations traversent et percent le temps comme le feraient des épées constituées de mots et non fabriquées d'acier ou de bronze, suivant les époques.
Elles traversent le temps et, souvent, perceront le cœur des hommes, réveillant leurs consciences et, surtout, illustreront quelques constantes de pensée, dans les préoccupations d'ordre familiale ou sociale, des communautés humaines de toutes les époques et cultures et dans lesquels certains mots ou concepts reviendront en boucle entrainant avec eux leurs sens prônant très souvent la loi, la justice ou équité.
Le moteur à deux temps.
Ceci illustrera que les différentes sociétés humaines seront toujours en état de mouvance et de gestation, elles rechercheront constamment un équilibre, cependant impossible à trouver.
Elles fonctionneront comme un moteur à deux temps, avec l'action et la réaction.
Dessin , Vivre dans les signes 2.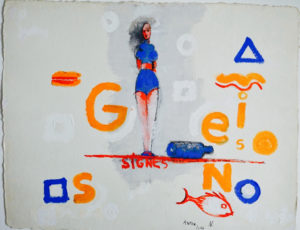 Les signes.
Ces petites phrases s'habilleront, en passant de conscience en conscience tout au long des époques, d'une sorte d'aura particulière, accompagnant les signes et se tenant aux frontières du sacré.
Ainsi dans mon livre, Main basse sur le sixième continent, j'ai proposé comme épigraphe, une phrase de Saint Augustin,
Les miracles ne sont pas en contradiction avec la nature, ils ne sont en contradiction que de ce que nous savons d'elle.
Quelques-unes des citations prises dans les messages de mon blog.
Aucune chose humaine n'a d'importance sérieuse, par Platon.
Il est très difficile de chercher à plaire à tout le monde, de Publilius Syrus.
L'amour de la nature est une consolation contre l'échec », de Berthe Morisot.
We make ourselves a ladder out of our vices if we trample the vices themselves underfoot., by Saint Augustine.
History is the version of past events that people have decided to agree upon, by Napoleon.
D'autres messages venant des lecteur du blog ( novembre 2019)
Ferdinand Foch.
« A lost battle is a battle one thinks one has lost. »
« Une bataille perdue est une bataille que l'on pense avoir perdue. »
Meryl Streep.
« Integrate what you believe into every single area of your life. »
« Intégrez ce que vous croyez dans chaque domaine de votre vie. »
Jennie Jerome Churchill.
« Treat your friends as you do your pictures, and place them in their best light. »
« Traitez vos amis comme vous faites vos photos et placez-les sous leur meilleur jour.
Le 27/11/19…et suivant.
W. Somerset Maugham
« Follow your inclinations with due regard to the policeman round the corner. »
«Suivez vos inclinations en tenant dûment compte du policier au coin de la rue. » 
Leroy Robert Satchel Paige
« Age is a function of mind over matter if you don't mind, it doesn't matter. »
Doug Gwyn.
« Truth is not determined by majority vote. »
William Shakespeare.
« So full of artless jealousy is guilt, It spills itself in fearing to be spilt. »
Christina Georgina Rossetti.
« And all the winds go sighing, For sweet things dying. »
Dessin, Vivre dans les signes 3.